My Yoga Retreat on the Aran Island
Last weekend I spent the most amazing yoga retreat on the Aran Islands. My experience started on Friday evening when I shared my boat journey with some crazy hens and stages dresses as priests and nuns heading over to the "Father Ted Fest" on Inis Mór. My first reaction was to join in the Ted Fest and forget the yoga retreat!
On arriving on Inis  Mór, my hostess  Monika was waiting for me and assured me that I would be miles away from the Ted Fest so that was the end of my wild weekend!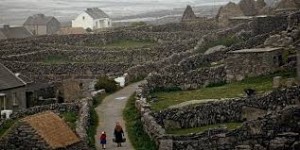 Monika was born in the Alps of northern Italy and grew up immersed in two different cultures and languages. Out of love for movement she trained and worked as Physiotherapist.  She began to practice Yoga on a weekly basis, longing to have some time for herself and to reconnect to her body. Learning more about the background and depth of Yoga, it soon became her passion. She practiced and studied with teachers of different traditions from Europe, India and Tibet and completed a Sivananda Yoga teacher formation in Greece in 2004. In 2008, following a calling, she moved to Inis Mór where she lived ever since. Monika's house is the perfect location for a yoga retreat with an entire wall of glass over looking the wild Atlantic.
Monika has created her own style of yoga which she has called Earth Sea and Sky Yoga. She runs a yoga retreat at different times of the year to coincide with the seasons and works with the lower, middle and upper chakras hence the name. "Earth" for grounding, "Sea" for the middle section of the body opening up the heart and creating space around our vital organs and finally "Sky" for clearing the mind and looking at our life in a different light.
We all lead increasingly busy lives, juggling work, family, chores and all of the other things on our seemingly endless to-do list while been bombarded by social media. Keeping this to the forefront of my mind, it didn't take me long to settle into the  earthy vibe of Inis Mór, the largest of the Aran Islands.
The islands are surrounded by crashing waves and are one of the few places in Ireland that has remained virtually unchanged for centuries. They are unspoilt,rugged and the stark beauty is breath-taking. So can you imagine been there for a weekend guided by Monika's years of experience, fresh food and her welcoming smile to take you on your journey. I was so switched off that I did not turn my data back on until Tuesday. I learnt to live and forget about Facebook and yes, The Irish Yoga Chatterbox for the entire weekend!!
Monika runs a yoga retreat every 3 months but has a special one coming up for the Easter Weekend. If you are interested, visit her website Earth Sea Sky Yoga
However, her yoga retreat at the unbelievable rate of €190 for  full board and retreat is always snapped up early and of course she has the international visitors that book in on their Wild Atlantic Way journey. You might need a few extra pair of yoga leggings for climbing over gates and walls so why not treat yourself to a flattering pair of I-SPY "Less" Yoga Leggings from our stylish range of Ireland's first yoga brand!
I can highly recommend Monika's retreats and believe me, I have never breathed such clear raw pure prana over-looking the Atlantic ocean.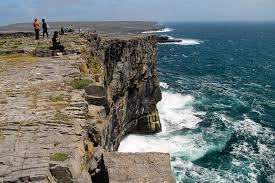 Thank you Monika and I am looking forward to returning to Inis Mór in the near future.
Namaste,
Paulette
« Breathe For Speed Program will Launch on April 1st. Stand Tall, Feel Light ,Run Faster »