Athletic Posture – Key Performance
The importance  of athletic posture is often overlooked in many sports but I feel that it is the key to the ultimate performance. An athlete must build his posture on a foundation of balance of muscle groups and standing tall. An athlete must think about the way that he holds his body, the position of his spine, the movement of the neck and the good control of his neck.
The base of control in athletic posture comes from correct posture so regardless of your sport, if the base of control is not aligned correctly, the athlete is wasting precious time and energy.
How can I help you?
We must first look at the reasons behind poor athletic posture especially in running. If you are training for Bon Secours Hospital Great Limerick Run 2018,take time out this week to watch my video on the benefits of good posture for running. Poor athletic posture comes from sitting down too much. In this day and age we spend hours in a seated position and whether we are aware or not, some  of our muscles are weakening while more are overused. The fact of the matter is that sitting will compress the spine, the glutes and the hamstrings. Sometimes the quads are overworked and will eventually tug on the hip flexors causing an anterior pelvic tilt (APT) – causing the front of the pelvic to be lower than the back. This is one of the causes of bad posture. At SportsYoga.ie I build personal program for athletes and more often than not, it is due to bad posture. I usually incorporate some core, middle to upper back and chest expansions and breathing techniques to improve their athletic posture.  I retrain and encourage new movement patterns and work on the smaller muscles that are sometimes overlooked.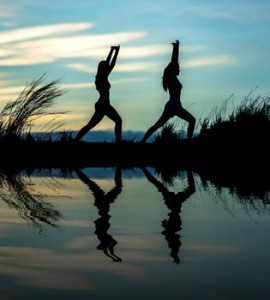 I am launching my new program  Breathe for Speed this week so this will add a whole new dimension to your training, sign up to my free on-line training if you visit my website and if you want to look amazing have a look at I-SPY fitness and Yoga range for your running shorts or our super absorbent I-SPY less leggings.
Chat to you next week,
Regards
Paulette