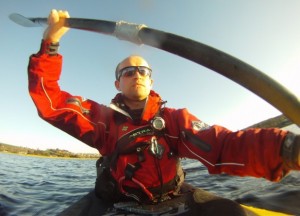 On the 4th of June Adventurer Mike Jones will set off from his home town of Cobh, Co Cork in his 18 foot long sea kayak.  His mission is to do one lap of Ireland and raise €10,000 for the Children's Sunshine home and Laura Lynn house.
One lap of Ireland sounds pretty simple, it is in fact a very daunting prospect and at 1,000 miles is an extremely physically and mentally demanding endurance challenge.  Aiming to paddle a Marathon distance of 30miles each day in all conditions he expects to complete the circumnavigation in less than 5 weeks.  To achieve these distance Mike will need to spend up to 12 hours each day battling against wind and tide eating and drinking on the move before finally making land fall each evening to set up camp.
Mikes' boat will be loaded with over 50kg of essential equipment from a tent and  camping stove to charts and compass and of course food and water to fuel and hydrate.  Each day he will need to consume in the region of 5,000 calories to make sure he can paddle the heavy boat through the rough seas off the west coast and against the strong currents of the Irish Sea.
Mike is no stranger to the big adventures and has completed several expeditions over the years from whitewater kayaking in Nepal to Rowing across the Atlantic Ocean, this will however be his first major solo expedition and travelling alone in such an extreme environment will bring a whole new set of challenges, challenges which frighten and excite him in equal measure.
To find out more about Mike and to donate to the Children's Sunshine home & Laura Lynn House go to www.mikejones.ie .  You can also tracks his progress as he travels along the coast by going to the website.
« Colin Griffin Speaks to Irish Examiner on the Journey to Olympics 2012 Follow Irish Adventurer Mike Jones on his Solo Kayaking Trip Around Ireland . »