[pullquote style="right" quote="dark"]
Paul prepares for  Mount Everest at the Loft Yoga Studio, Clonlara

 Co Clare

.[/pullquote]

I have been working with Paul since September with main emphasis on yoga breathing techniques,visualization and mental focus . He is currently heading to the South Pole in preparation for Mount Everest in April. He has taken my Sportsyoga program on board and it will be interesting to get some feed back from him regarding his training at the Loft Yoga Studio . I will be following his journey and will keep you updated on his progress.   

Paul Devaney from Longford in Ireland is attempting to do something no individual from the Irish midlands has ever achieved and indeed something only a few elite climbers have ever done; climb the worlds seven highest peaks, on the seven continents in seven years while raising funds for charity.

Less than 300 people worldwide have ever completed the Seven Summits challenge. Paul will travel to Antarctica on 26th December 2013 to attempt a 2-3 week expedition to climb the highest point on the continent – Vinson Massif. Once complete, Paul will have 8 weeks to get ready for the biggest challenge yet in taking on the mighty Everest from April to June 2014.
The story of Irish Seven Summits dates back to 2005. Playing Gaelic Football with the Hong Kong GAA team and training quite heavily with the group in Asia, Paul was encouraged by his colleagues to take a Sherpa and visit the base camp of Everest before returning to his company base in UK.

Paul was so enamored by the experience of visiting base camp at Everest and having read about the seven summits and the challenges it posed that he proposed to his university friends that they attempt this feat for themselves. And so the 'Irish Seven Summits' team was born.

Paul has successfully climbed five of the seven summits and along with his university friends they have raised €26,000 for five different and worthwhile charities. To date all of the expeditions (including the upcoming Antarctica one) have been self funded, and all monies raised have gone to charity.

Paul will be using the last two expeditions to help raise awareness and funds for LiamsLodge (www.liamslodge.com) – a respite centre for children with rare genetic diseases. Paul feels a special affinity to what Tony Heffernan, the founder of the charity, is trying to achieve in developing Liams Lodge.

Until February of this year Paul had undertaken these expeditions while still maintaining a full time job with Rolls-Royce. To be able to climb the two remaining and most challenging peaks Paul has taken a leave of absence from his Business Management role with the Rolls-Royce Aerospace Division.

Initially training at Trinity College Dublin Paul moved to the University of Limerick in July to live in the National Altitude Training Centre and train at the UL Sports Arena. Paul graduated from UL over a decade ago with BEng in Aeronautical Engineering. The Altitude Centre was opened prior to the 2012 Olympic Games to assist elite athletes in their training for the games by allowing residents to live in simulated altitude conditions.

Paul is the first climber to use the facility (the first of its kind in UK and Ireland) and is the centres first long-term resident. He has been given cross-campus access to everything from yoga, TRX training, DEXA body composition scans and VO2max testing. He is currently living in a specialized house that simulates living at altitude, currently at 3600m above sea level. In September he was delighted to invite University of Limerick Foundation on board as official training sponsor and is actively seeking sponsors and supporters to help make Everest a reality in April 2014. All of this makes the expedition and training process a uniquely Irish one and something that is without a doubt a once in a lifetime event.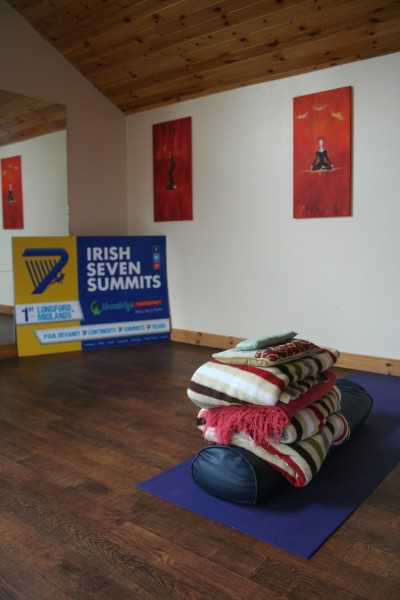 There is a special resonance to the fact that Paul is climbing Mt. Vinson, Antarctica, in 2014. It is 100 years since Ernest Shackleton and Tom Crean embarked on their epic Endurance Expedition to attempt the first crossing of Antarctic. Paul has met the grandchildren of both Shackelton and Crean in recent weeks and is enthused by the opportunity to emulate their heroic exploits of a century before.

For more details on the Paul's expedition, to donate to Liams Lodge or to become an official sponsor or supporter please go to www.irishsevensummits.com or use the contact detail shown below.
Paul Devaney
Irish Seven Summits
National Altitude Training Centre | University of Limerick | Ireland
« What is Yoga Therapy My Blogs are short and sweet but to the point – Protect your Knees. »