Day 11   Follow Paul Devaney on his trek to Mount Everest.
Check out the view from above Dingboche en route to Everest Base Camp. Onward and upward.
Day 11: Today was a second 'rest' day at Dingboche which actually means a shorter than normal hiking day to help acclimitise.
Paul felt the head-cold virus from a few weeks ago creeping back in yesterday after the hike to 5000m so instead he headed down to the medical camp today to see the doc and make sure it is just a cold. After a brief exam the doc confirmed it is just the cold re-emerging in the high altitude, so its medication time for the next few days to shed these sniffles. Good news is that lungs heart, body temp, SaO2 score and throat are all fine. Oxygen saturation measured 87%, so thats not bad.
Niall and the rest of the crew hiked up to Chukhung today to take in the views and get a bit of active acclimitising under their belt. Our mascot '55' tried to chat with a Yak but it was having none of it.
Team are back at Dingboche tonight for rest ahead of moving up to Leboche tomorrow as they inch closer to Everest Base Camp and the business end of this expedition.
Paul Devaney is already on day 11 of his trek to Mount Everest and as you can see , they are all in good form and high spirits.
I will keep you posted….
Meet Paulette Egan – Paul's yoga coach for Antarctica and Everest! Paulette has worked closely with Paul over the past 9 months on breathing techniques to aid recovery as well as visualisation for each stage of the expedition to help with focus and concentration. Paul would like to thank Paulette for helping with this journey to the top of the world. It has been a great honour to work with Paul and I must admit that I enjoyed writing the personalised visualisations  for him. Yoga Nidra therapy and personalised visualisation  is a new concept in Sport and it allows the person to live the journey or game before the event. I spent some time researching the journey and what the terrain would be like between each camp. I took him through the dangers and how to over come them with different breathing techniques. I also took him through a specific breathing techniques that will create heat in his body in case of a human traffic jam on the decent . It has been interesting for me ,and each week I would take him through the journey . He is now familiar with the duration, weather and terrain  between the camps and I have also suggested a manta for him to stay focused in times of distress . I would like to wish Paul every success and looking forward to catching up with him on the other side of Mount Everest……https://www.youtube.com/watch?v=6ZEIxNr4t6c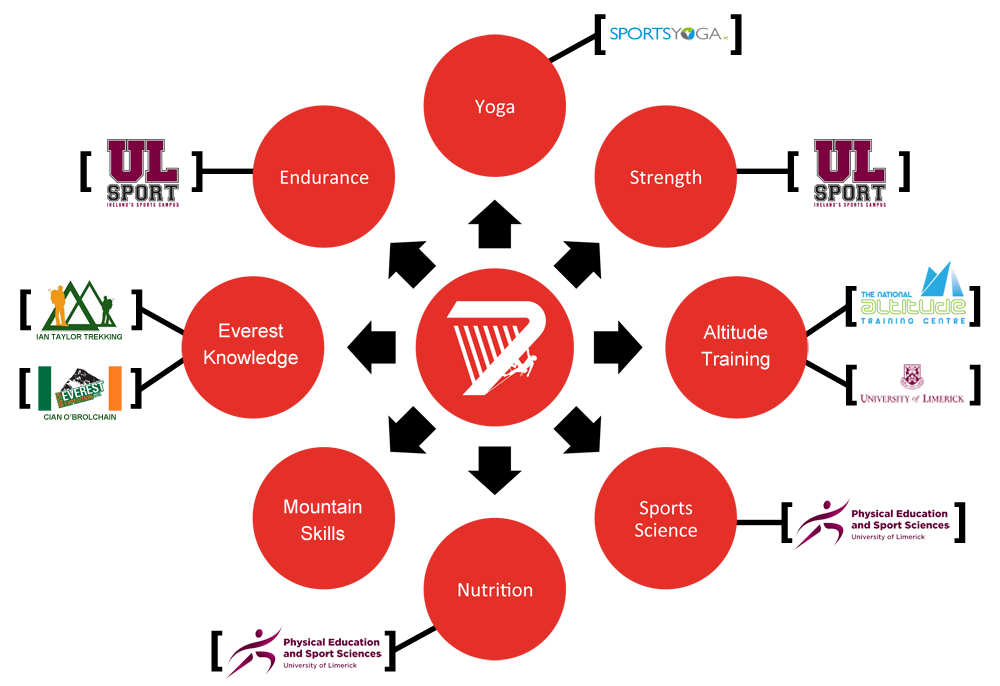 « My Blogs are short and sweet but to the point – Protect your Knees. Delighted to get a mention in the Irish Examiner. »